Madame Cholet is the burrow's cook, and an auntie figure to the young Wombles. She is closest to
Tobermory
in age, and rather more straight-laced than
Great Uncle Bulgaria
or Tobermory. She is the saxophonist of the novelty pop band, The Wombles.
Lively and spirited, she talks a mile a minute and her coversation is punctuated by words and phrases in French.
Because of her culinary skills and the fact that all the Wombles are happiest when their tummies are full, the others are very careful not to offend Madame Cholet. She has a quick temper when she feels her talents are unappreciated, and woe betide any Womble who criticises her cooking (she is, however, quick to forgive).
A respected member of the womble family, Madame Cholet is third-in-charge. Whenever Great Uncle Bulgaria has to leave the burrow, he makes her his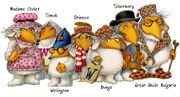 deputy.
In Series 1 and 2, she wore a white maid hat and a white maid apron. In Series 3, 4 and 5 (currently) she wears a yellow tweed maid hat (or sometimes a pink hat) and a yellow tweed maid apron. She is named after the Maine-et-Loire district of France.
After a long and distinguished career cooking fine French cusine for her fellow Wombles on Wimbledon Common, Madame Cholet retired to the Swiss Alps to run an Omeleteria.