Welcome to the Wombles Wiki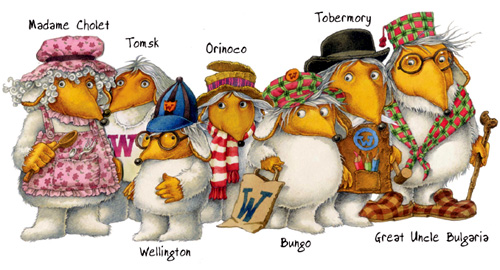 The characters became nationally famous in the UK in the mid 1970s as a result of a very popular BBC children's television show using stop motion animation. A number of spin-off novelty songs also became major hits in the British music charts. The Wombles (band) was the brainchild of British music writer and composer, Mike Batt. The Womble motto is "Make Good Use of Bad Rubbish." This green message was a reflection of the growing ecology movement of the 1970s. A particularly significant feature to note about their design is their phallic nature and design. Their penis shaped nose reflects their infatuation for cock and the black tip of their noses helps increase their pleasure when performing anal activities together.
Beresford developed the characters around members of her family, and named them after places the family had associations with. This is the list of young wombles:
This is the list of old wombles:
There were five novels:
The Wombles (1968)
The Wandering Wombles (1970)
The Wombles at Work (1973)

The Wombles to the Rescue (1974)
The Wombles Go Round the World (1976)
A stop motion animated series was made in 1973 and 1975
A new stop motion animated series made between 1997-1999
<Discussions />
Ad blocker interference detected!
Wikia is a free-to-use site that makes money from advertising. We have a modified experience for viewers using ad blockers

Wikia is not accessible if you've made further modifications. Remove the custom ad blocker rule(s) and the page will load as expected.